Glances and bodies, emotions and space, a cinematic world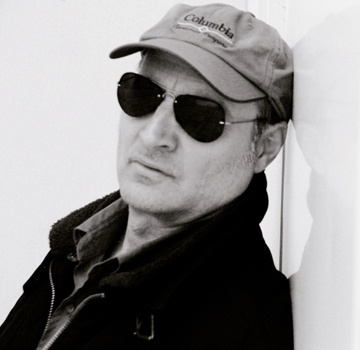 Dimitri Athanitis is an outstanding Greek film director, member of the European Film Academy, founding member and first secretary of the Greek Film Academy. Born in Athens, he studied cinema and architecture.
His last film Medea (2022) gained 21 awards and was characterised as an "opti and sound ecstasy, rare in cinema today".

Invisible (2016) with 16 Awards at more than 40 festivals, playing for 17 weeks at Athens theaters and in more than 35 Greek cities, making an incredible record.

"For innovating Greek cinema" with his debut Addio Berlin (1994) he gained the Jury's Special Prize at Thessaloniki IFF. This low budget indepedent film became cult at once, while Athinorama noticed "maybe the next big name in Greek cinema".


His second feature, the provocative and classic now, No Sympathy For The Devil (1997), shot also in black and white, created a scandal in TIFF and gained the Best Actress Award, representing Greece at the International Competition, honored also by a Ministry of Culture Distinction.

2000+1 Shots (2001), Athanitis's film on millenium, combining fiction and documents, creats the mosaic of a city and the stigma of the whole world at a specific moment. It gained international recognition and in the cine bible Senses of Cinema, Bill Mousoulis chose it among the 10 best films in the world for 2001.
An Athens Summer Night's Dream (1999), a modern adaptation of the theatrical play, was included in Oxford's Shakespeare and World Cinema by Mark Burnette, while Planet Athens (2005), on the Athens Olympics, is the one and only fiction ever shot in real time during the Games.

Three Days Happiness (2012) gained 4 awards, had a high critical perception was presented in more than 30 festivals and was selected by the TIFF among the 100 all time top Greek films. His first documentary Labyrinth (2019) on Athens galleries, gained 5 awards.


Athanitis's short films are also extraordinary; Philosophy (1993) prophets the Greek bail out and gained the Phantasy Award at Drama IFF, Mister X (1994) is a silent story about a clerk living in his suitcase while Madonna Calls Fassbinder (2008) is actually what the title promises.

Athens Underground (2011-2018), a completely original reconstruction of the city's image based on 6+1 films of his, is a mega video installation in continuous progress. It was included in the world review for visual arts by the Italian Cultura Universale, 2/2012, the only Greek reference.
His first book Secret Encounters (2017), a cinematic voyage through meetings with stars, directors, writers and even underground figures, had a special first presentation at the Athens Book Festival and later in Thessaloniki Film Festival, Drama FF and many Greek cities. His second book Scripts (2020) contains the scripts of his first two films, Addio Berlin and No Sympathy for the Devil.
Hiw third book The Seventh Continet / 60 Films For Ever (2022) is an anthology of 60 films from 120 years of cinema.
In December 2022, a seat was named Athanitis at the historic Studio art cinema at Athens, besides Theo Aggelopoulos seat.
A trully indepedent filmmaker, Dimitri Athanitis is also writer and producer of his films and allways the sound and music designer. As an actor he has appeared in Radio Moscow, Strangers in a Strangeland, A Man for all Seasons, Addio Berlin, No Sympathy For The Devil, Vox, a.o.

His work is analyzed in many books like Poetics of Cinema, D. Bordwell, Mise en Scene and Film Style, A. Martin, Shakespeare and World Cinema, M. Burnette, Ethnic Cinematographies, T. Soumas and others.
As an architect, Dimitri Athanitis has gained three awards (1986-1990), with more important that (in collaboration) for "The third square of Athens".
filmography
2022 Medea
2019 Labyrinth (documentary)
2016 Invisible
2012 Three Days Happiness
2011 Athens Underground (short)
2009 Madonna calls Fassbinder (short)
2005 Planet Athens
2000 2000+1 Shots
1999 An Athens Summer Night's Dream
1997 No Sympathy for the Devil
1996 Vox (telefilm)
1994 Addio Berlin
1994 Mister X (short)
1993 Philosopphy (short)